Blueberry Coffee Cake with Walnut Streusel Topping
This Blueberry Coffee Cake is fluffy, soft and is definitely perfect paired with a cup of coffee for those mornings of yours! There's a walnut streusel topping which adds a perfect crumble + crunch texture on top.
Also, the weather has been in the 90's here in Los Angeles. Turning on the oven and baking doesn't help but it's so worth it. I've been trying to bake earlier in the day because it gets even hotter. I'd like to say it helps. This blueberry coffee cake was worth it though! I ate 3 pieces the day I made it and I'm sure those other pieces won't last too long either. Time for more batches?? Yes, I think so.
I mean, look at it! I added some powdered sugar on top because it gives it a nice touch and finish! I have this as a snack mid-day or part of my breakfast with a side of fresh fruit and scrambled eggs. It's a great snack option while studying too because I always need to munch on something while I'm hitting the books.
Also, the blueberries are so so juicy! Blueberries are so much sweeter and better quality in the summer because they're in season. They're also at a lower price since more berries are grown in the summer, so this was the perfect fruit to incorporate into this recipe.
As a kid, I would always order the blueberry crumble coffee cake at my local coffee shop. I still remember always eyeing it through the clear case as I was patiently waiting in line for my dad to get his coffee. I also always loved ordering crumble muffins or pies with crumble topping. I just think that crumble on top totally makes the muffin/bread so much more delicious! I grew up on this and I was so excited to finally make my own recipe!
As I was deciding on what combination to make, I thought of using either blackberries, strawberries, peaches, etc. I also wanted to add pecans on top or inside. I was trying to get all creative but I thought, why don't I just stick to a classic blueberry coffee cake? I made the right decision because I think this classic flavor was just what I was craving!
In this recipe, I used Bolthouse Farms Non-Dairy Plant Protein Milk. This is the unsweetened flavor so there's no added sugar! It's a great dairy-free and vegan alternative to replace in your cereals, smoothies or baking. They also have a vanilla, chocolate and original which can be used in all sorts of ways in your daily recipes!
When I first tried this milk, I was really impressed! Bolthouse Farms is committed to make products from plant-based sources and helping provided non-dairy alternatives. These Plant Protein Milks have 10 grams of pea protein AND 50% more calcium than your dairy milk per 8 oz serving. There's also no carrageenan so you know this brand cares about using quality ingredients in their products!
The non-dairy milks are available in the refrigerated area of the dairy section in grocery stores across the United States. Click here for the store locator to find out where these non-dairy milks are available near you!
I was so so excited for the coffee cake to be done! I love the smell of baked goods! It's such a comforting smell and it only builds to the excitement!
Now that my internship is over and I have a more free schedule to cook meals and bake, I've been taking advantage of it! I have an entire list of baked goods I plan to make in the next two weeks!
Also, I am a lover of crumble topping because it totally adds a kick to a muffin. Honestly, it's the butter and sugar that makes it good - I'm totally for it!
Here's a close-up of Blueberry Coffee Cake which is so delicious warmed up! I'm sure this would be delicious paired with a cup of Bolthouse Farms Non-Dairy Plant Protein Milk! I use to drink milk a lot as a kid but once I became lactose intolerant in college (sadly), I stopped. I think it's time to change that because I love having a cup of milk with my breakfasts. This plant protein milk with pea-protein would be a great beverage option to incorporate every morning!
One of my favorite ways to drink coffee is also with a splash of creamer or milk, so this would be totally ideal! I only can drink some coffee black. It can get too bitter for me so I always just add a splash, then I can drink several cups of it. I'm trying to drink less coffee and more water but it's been hard. I limit myself to 3-5 cups a week since it can get addicting! I usually only have it in the morning or early afternoon or else I can't sleep at night.
Look at those plump and juicy blueberries! I like having several juicy blueberries in each bite so this recipe calls for 2 whole cups berries! I even added some extra on top with the crumble topping. Since it's summer, blueberries are in season so I definitely stocked up on my berries in my fridge and freezer!
Since berries do go bad quickly, I freeze them after 2-3 days in the fridge. I bake with frozen berries often. You just need to thaw them beforehand, give it a quick rinse + dry and they're ready to be folded into your batter.
Blueberry Coffee Cake with Walnut Streusel Topping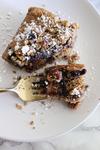 Author: Winnie Liong
Prep time: 15 minutes
Cook Time: 25 minutes
Total Time: 40 minutes
Servings: 9
Serving Size: 1
Ingredients:
WALNUT STREUSEL TOPPING:

4 tbsp unsalted butter
1/2 cup coconut sugar
1/2 cup all-purpose flour
1/2 tsp cinnamon
1/3 cup walnuts, crushed


BLUEBERRY COFFEE CAKE:

1 1/2 cups all-purpose flour
3/4 cup coconut sugar
2 1/2 tsp baking powder
1 tsp cinnamon
1/2 tsp salt
1 egg
1/4 cup coconut oil, melted
1 tsp vanilla extract
2 cups fresh blueberries
Instructions:
Preheat oven to 425 F.
Line a 8 x 8 inch pan with parchment paper, then set aside.
First, prepare the crumble topping by mixing together the flour, coconut sugar and cinnmon.
Cut in the butter and using your hands, crumble pieces of butter into mixture. Add in walnuts. Then place in fridge.
In a medium bowl, mix together flour, sugar, baking powder, cinnamon and salt.
In a large bowl, mix together milk, egg, applesauce, coconut oil and vanilla extract.
Add wet ingredients into dry ingredients and stir until well-combined. Fold in blueberries.
Add batter into pan and spread into an even layer.
Sprinkle some extra blueberries on top if desired. Sprinkle crumble topping over the batter.
Bake for 22-25 minutes or until a toothpick inserted in center comes out clean.
Cut into 9 bars and serve warm with a cup of coffee or milk!
Notes:
Replace walnuts with pecans or other nut of choice if desired!