Butternut Squash Noodle Egg Nests
Helloooo! I can't believe it's already October 2019. Where did time go?? When I graduated from my dietetic internship program, I also moved out to my own apartment and also got engaged! Lots happened but now I'm more settled into a routine. I've been spending the last 5 months being more active on Instagram, cooking up a bunch of recipes, brainstorming possible ways to expand (Youtube??! Blog?!), wedding planning and studying for my RD exam. Each week is different for me! It depends on what my priorities are.
Also, it's pretty craving how I'm getting married in less than 6 months! Everyone has been asking me if wedding planning has been fun. I'd say yes! it's a lot of work and you learn a lot about how the other person makes decisions. I make decisions very quickly and I'm very impatient when it comes to getting things done. I just want to GET IT DONE y'know?! LOL Jovin gives it more time and thinks through it a lot more than me. This is why I'm thankful for him in helping me in this.
I realized you're here for the recipe so enough about that. I'll save it for another post. Today is World Egg Day! I eat eggs very often so I'm super excited to celebrate today! I celebrate it like several times a week. I eat eggs very often because they're a great and easy source of complete protein. I like them hardboiled, poached on toast, sunny side up, over-easy, scrambled or in an omelette. I gotta mix it up to keep my interested you know? I'm always interested in eggs though, haha!
About 75% of my breakfasts are toast because it's easy! After coming home from my workout, the last thing I'd want to do is spend 30-45 minutes cooking up a breakfast. So I resort to toasting bread, slathering some almond butter or mashing avocado on a toast and call it a morning. I also make sure I have some fruit and/or protein as well! I try to switch things up in a while and create breakfasts that take a bit long, like this one! Totally worth it!
Hope you enjoy it if you make it :)
Butternut Squash Noodle Egg Nests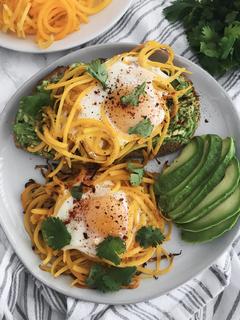 Author: Winnie Liong
Prep time: 10 minutes
Cook Time: 15 minutes
Total Time: 25 minutes
Servings: 1
Serving Size: 1
Ingredients:
2 tsp ghee or butter
1 cup butternut squash noodles
2 eggs
salt and pepper, to taste
cilantro, to garnish
crushed red peppers flakes, to garnish
avocado, mashed or sliced to serve
Instructions:
Heat up a large skillet to medium heat with ghee or butter.
Add in butternut squash noodles and season with salt and pepper.
Cook for about 10 minutes until slightly softened.
Separate into two piles of noodles in the skillets, creating a hole in the center of each.
Crack an egg into each hole and allow to cook for another 5-6 minutes or until egg white is set.
If you prefer a more well-done egg yolk, add lid and allow to steam for 1-2 minutes.
Transfer onto plate and serve with toast and avocado. Top with cilantro and crushed red pepper flakes!
Notes:
These can also be made with zucchini noodles or sweet potato noodles!