Lemon-Tahini Salad Dressing
I love lemon & tahini flavored dressings/sauces! I decided to create a dressing for my salads after looking at several different recipes online. This sauce is super easy to make and only has 7 simple ingredients!
This salad I made has a bed of Arugula salad greens, diced tomatoes, sliced almonds & roasted curry chicken breast. Looking at this salad makes me want to eat it again. It was SO simple & easy to throw together, my kind of meal!
Lemon-Tahini Salad Dressing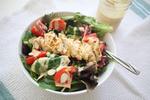 Author: Winnie Liong
Recipe makes: 2 cups
Servings: 8 (1 serving = 2 tbsp)
Ingredients:
1/2 cup unsalted tahini
1/4 cup lemon juice (fresh or bottled works)
1/2 cup water
1/2 cup nutritional yeast
1/2 tsp salt
1/2 tsp garlic powder
Pepper to taste
Instructions:
Mix all ingredients together and mixed desired about into salad or meal of choice!
Store the rest in an airtight container and refrigerate.
Notes
Add in paprika for a kick of spice!