Yeast-Free Cinnamon Rolls
Move over Cinnabon. Jk, I love Cinnabon. Their cinnamon rolls are a classic and I can't ever go wrong with them.
These cinnamon rolls are yeast free so there is no need to wait hours for dough to rise. It took about 45 minutes to prep and bake! What? YES, under an hour! Something about the smell of homemade baked goods is so comforting.
I'm going to venture out this year & make more recipes I've never made. Growing up, I was in a bubble when it came to food. I was really asian, haha yes, very asian. I had lots of white rice, bok choy, green beans, chicken/pork and steamed fish. For desserts, it was red bean soups, asian pastries and cakes. I never ate salads, sashimi or anything raw. I wasn't allowed to because my mom always said no and it wasn't safe. It wasn't until I started cooking for myself in college, I learned that there was so much more food out there I've never heard or tried. I came out of my shell!!!
My desire to cook new recipes includes sweet and savory foods. I got a slow cooker for Christmas and I'm obsessed. So far, I've made balsamic chicken & turkey chili in it. I plan to make some chicken curry and soups in it as well! For baking, I want to make gingerbread cookies, blueberry scones, chocolate bark, etc. The list is endless. I want to make all the foods!
Also, these photos were all taken with my iPhone 7 plus because I was lazy to bring out my camera.
Forming the dough together into a ball.
Rolling the dough out. I don't have a dough roller, so I used my hands.
Adding in the cinnamon, nutmeg, sugar & ghee filling.
Rolled up, cut into pieces!
Ooey Gooey. I'm a fan. Definitely.
Yeast-Free Cinnamon Rolls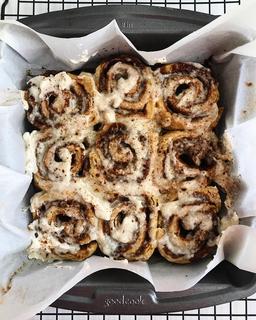 Author: Winnie Liong
Prep time: 20 minutes
Cook Time: 25 minutes
Total Time: 45 minutes
Recipe makes: 12 cinnamon rolls
Servings: 12 servings
Serving Size: 1 cinnamon roll
Ingredients:
Dough:
2 1/4 cups all-purpose flour
2 tbsp cane sugar
1 tbsp baking powder
1 tsp sea salt
1/2 cup butter or ghee (cut in small chunks, not melted)
1 cup almond milk
Filling:
3/4 cup coconut sugar
1 tbsp cinnamon
1 tsp nutmeg
1 tsp vanilla extract
1/4 cup butter or ghee, melted
Icing:
1/2 cup frosting
2 tbsp almond milk
Instructions:
Preheat oven to 375F.
in a meidum bowl, mix together flour, sugar, baking powder and salt.
Add in bghee and almond milk. Mix well into a large bowl, adding more flour as needed. Leave to side.
Mix together the filling - coconut sugar, cinnamon, nutmeg, vanilla extract and ghee.
Take your ball of dough. On a clean surface, sprinkle flour and roll out into a 12" x 15" rectangle.
Add cinnamon sugar filling, covering the entire rectangle, leaving about an inch border.
Starting on the long end, roll the dough up tightly.
Cut into 12 pieces.
Place cinnamon rolls on a greased 12 x 15 pan. You can use parchment paper as well like I did.
Bake for 25 minutes (it may need up to 30 minutes).
While baking, prepare frosting.
When cinnamon rolls are done, allow them to cool for 5 minutes before spreading frosting on top.
Notes
These can be placed in a sealed tupperware for up to 2 days or in the fridge for up to one week. They're best warmed up before eating!